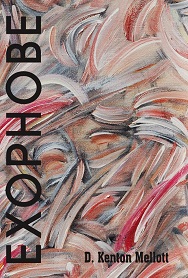 Okay, today I am going to do my best to promote my book, Exophobe.
I hope the comments below motivates you to the point of action, with that action being going to the Exophobe website.
Think excellent book and a free T-shirt. Plus, I'll name a character after you in my next book.
Okay, that last bit is a lie, but the other stuff is true…
Check out what these fine readers have to say ➡ –>
William Pullin —
A great addition to my home library! I don't read very much fiction, but this work was well worth the exception. Looking forward to the next literary journey…
Keith M Green —
Reading this book often caused annoyance. Mostly because I would dive into the creative and thought provoking world of Exophobe on an early morning train ride and subsequently find myself confronted with sultry looks from haggard faces as my laughter pierced the hypnagogia of their commute to work. So, if you do read this, make sure you're not in a library. A rambling adventure that casually struts the tight rope of cohesive writing and a tangent filled flustercluck, this book has just the right blend of wit, charm and mystery to keep you guessing and guffawing at a rapid pace. The story follows a Enoch, a regular guy through an international conspiracy concerning a number of secret organisations and touches on ideas surrounding aliens, arcane magick and the occult. A mixture of chaotic internal monologues, good ol' (and new) fashioned sci-fi concepts and glimpsing phrases of truth and meaning, 'Exophobe' delights and excites with a twist at every turn and a writing style that not only captures the reality of human thought and group dynamics, but tops it off with a more than a pinch of humour. Like a lot more. Seriously. There were so many puns in this book that even me (who enjoys a lot of punishment (get it?)) got a bit annoyed at the protagonist making so many jokes, but hey, being someone who often does/attempts to do the same, I'd have my pants on fire if I said I'd never pissed anyone off by making a joke an inappropriate moment, so all in all it added to the realism of the characters. That was definitely one thing that I thought D. Kenton Mellott really had down, the characters were truly 3 dimensional (even the ones that didn't exist in the physical world) and it added a tasty layer of reality to this novel work of fiction. Combine that with a decent plot that builds to a tingling climax through compound meaning and the result is a thoroughly enjoyable adventure with the pages set to pun. All in all a great read, lots of jokes, good story arc, cool aliens and enough sexual tension to make you blush. Just what you want from a sci-fi.
Margaret V
Hello Sir! I just wanted to share with you that this book is one of my favorite books ever. The imagery, detail, diction, all of it was flawless to me. I stumbled upon this book in a small out-of-the-way bookstore and I am so glad I did. I can't explain it, but I really connect with this book in ways I haven't before. So thank you for Exophobe.
Jeremy
This has easily become one of my favorite books of all time. I can't wait for the next one! The style of writing is unique, entertaining, and highly immersive. Any passerby that witnessed my reading of the book would have surely thought me to be a raving lunatic. Often I would burst out with laughter and in return receive strange looks. I will recommend this book to everyone I know!
Mike Wilson
I bought the book at Dallas Comic Con and just started reading it last night. It kept me up all night, and now I have not been productive at work today. Thank you.
Julie M. Coffey
I finished your book, Exophobe, and I wanted to let you know that I enjoyed it completely. As your reader, I couldn't help but imagine Enoch to be you, so now you have some special powers in my mind! As a writer, you forced me to slow down my reading so that I would catch the subtle wit and clever twists that you included. There were no periods where the action dragged along, and the characters were sympathetic and realistic. Most of my reading was done in airports, so I want you to know that I held the book up high where other travelers could get a good look at the cover/title and maybe search for it. I am anxiously awaiting the next book, so put me on your email list and let me know when and where I can buy it.
Angela Bullock
I started reading your book last night. Thanks for keeping me up until the rooster crowed. Not a real rooster, mind you, but you get the picture. I met you for a brief yet enjoyable moment at Dallas Comic Con on Saturday. You, sir, are a character! Thank you for taking the time to tell me about the book and pique my interest. I shall post my overall impressions of the story soon.. most likely tomorrow. I have a LOT of coffee on hand.